BRIGHTEN UP YOUR WINTER:  COME ACT WITH US!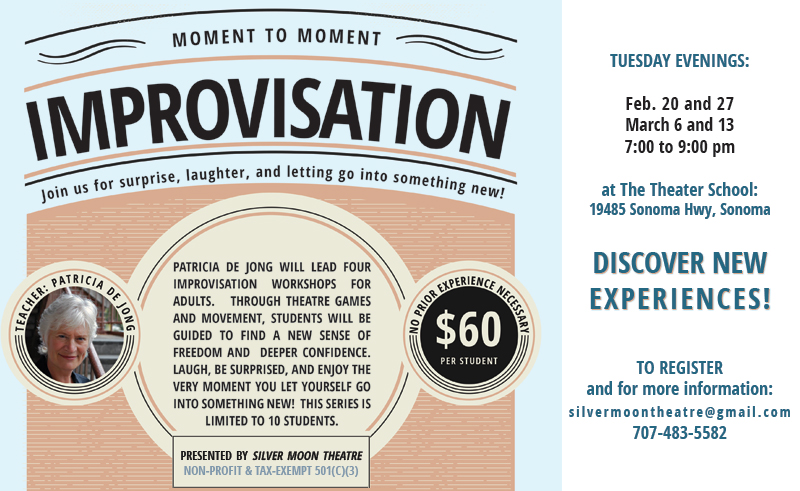 PREVIOUS CLASSES:

We'll develop acting skills by working on scenes from published plays. We'll explore stage movement, developing a character, action/reaction, "the moment before", and much more. Memorizing helps but is not required. Beginners are welcome – everyone learns from each other. Our final session will be a performance for families and friends.
Taught by Nellie Cravens
Artistic Director, Silver Moon Theatre
Tuesdays:  7:00-9:00 pm
January 17 – March 21, 2017
The Theater School
19485 Highway 12, Sonoma
(above Broadway Cleaners & Edward Jones)
Ten sessions – $200.00
Returning students – $180.00
To register:
Call Silver Moon Theatre
707-483-5582
Or email silvermoontheatre@gmail.com
Full payment due by first class
Class is limited to 12 actors
Please mail checks to:
P.O. Box 37
Sonoma, CA 95476
Photography by Herman Soon
Please fill out the inquiry form to get on our mailing list:
Silver Moon Theatre brings the joy of live theatre to Sonoma and the surrounding valley. We also teach acting techniques. Silver Moon Theatre is proud to be a non-profit, tax-exempt 501(c)(3) organization.