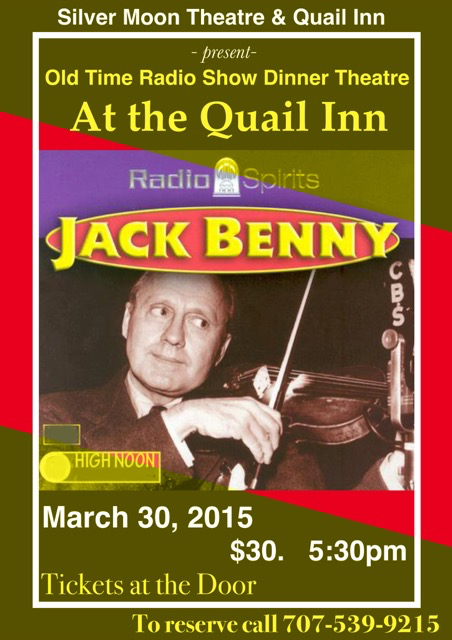 OLD-TIME RADIO SHOW – NEXT MONDAY NIGHT
IN THE QUAIL INN AT OAKMONT!
"JACK BENNY" STARS IN
SILVER MOON THEATRE'S OLD-TIME RADIO SHOW
MONDAY, MARCH 30, 2015
QUAIL INN at OAKMONT – 7035 Oakmont Dr.
DINNER 5:30 pm SHOW 6:30 pm
$30.00 per person
707-539-9215
Two NEW (to us) Jack Benny Radio Shows come to life before you! "The Maxwell Donated as Scrap" and "High Noon"! Join us for dinner and the shows with songs, sound effects, vintage commercials, and lots of fun.
Ticket price includes two-course dinner and the radio shows.
Presented by SILVER MOON THEATRE
We are recreating original radio scripts. Not for broadcast.